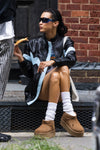 Welcome to the ongoing "vibe shift" - as recently coined by allison p. Davis in the cut - and welcome back to a divisive icon. You've guessed it, it's the return of ugg boots. 
They might, at first, provoke a mild shiver; trapped behind the do-not-break glass of the early 2000s glasto-boho silhouette, combined with skinny jeans, blonde backcombed hair, and a hosedown of eyeliner - a look which somehow dominated from downtown la to suburban surrey. But, in the constant churn of fashion's instagram age, and as the y2k fashion moment continues to evolve, the world's most famed sheepskin shoes are once again back on the front foot with a series of prominent designer collaborations.
The ugg fashion moment has, in fact, been bubbling away for a few seasons. First up was belgian designer glenn martens, now creative director at diesel, whose fall/winter 2018 y/project runway revival of the boots brought his usual twisted maximalism to men's and women's shapes that vogue called both "amazing and absurd". Her legs swaddled in sheepskin, rihanna wore the collaboration at coachella in a perfect break-the-internet-but-make-it-ugg moment. And typically for martens, he worked up the ugg 'renaissance' vibes into a campaign that riffed on painterly rococo images, inspired by the work of françois boucher et al, celebrating 'the re-birth of the classics'.
So, like it or not, uggs are cool again. Or maybe they were always cool. Or, keeping in mind the strange and fickle ways that trends ebb and flow in the social media era, maybe they were never cool, which is what makes them, well, cool.