Bredestraat 7A-01
6211 HA Maastricht
The Netherlands

Bredestraat 9
6211 HA Maastricht
The Netherlands

Mon 13:00 - 18:00
Tue 11:00 - 18:00
Wed 11:00 - 18:00
Thu 11:00 - 20:00
Fri 11:00 - 18:00
Sat 11:00 - 18:00
Sun 11:00 - 17:30
Our

history
PL-LINE is a multi-brand store in the city centre of Maastricht, the Netherlands, established almost 30 years ago. In 1993, the store started in a side street of the city centre as an official retailer of brands such as Stone Island and Prada. After a decade it felt like PL-LINE was ready for the next step.
Because of its continuous drive to attract new brands that will stimulate the store's fashion senses, PL-LINE moved to it's current location. Housed in a monumental, 17th century building, which has a cultural history on his own, PL-LINE is now located at Bredestraat 7 & 9. Stores where old architecture meets new art through fashion.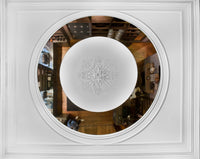 With the new stores, came new brands such as Tom For, Thom Browne, Balenciaga, Lanvin, Saint Laurent, and more. From theron PL-LINE has been building a name for itself as a leading fashion store, without losing its own identity. PL-LINE is wel-known, not only in Maastricht or the Netherlands but also across the Belgian and German border as Maastricht is perfectly situated between both borders on a 20 minute drive. Separated into two stores, PL-LINE strives to offer a brand mix of high end contemporary, luxury sports- and streetwear brands. Being a retailer of the very beginning of brand such as OFF-WHITE, Amiri, Hood by Air, Palm Angels, and more, PL-LINE aims to be the first with the latest and work on longterm relationship. For example, PL-LINE is an official retailer of Stone Island and Prada for over 20 years.
Growth
In our opinion you can never stop growing. In 2020, we marked a 100% growth compared to 2015. But we are not there yet, therefore, we are continuously evolving our online retail destination, our servicem socials, brand mix, and so on.
Let's keep in touch!
Drop us your emailaddress and be the first to know when we have some news for you!